Crowns and Bridges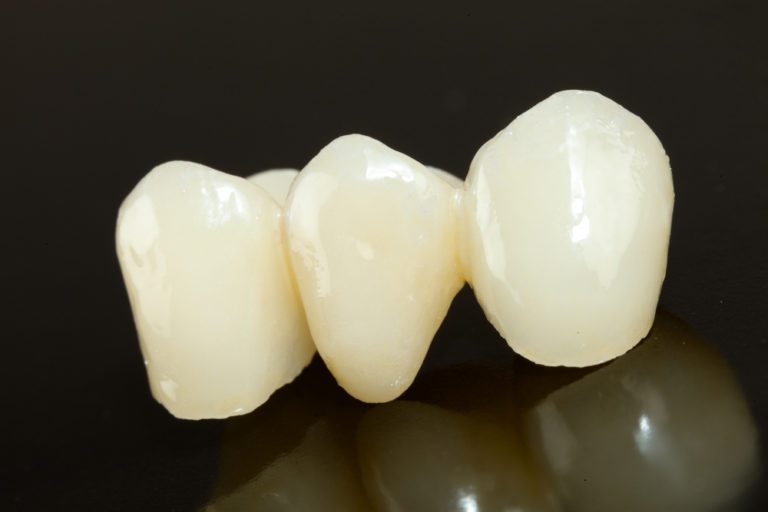 At times, crowns and bridge may turn out to be the best dental solutions to solve your ongoing crisis. They are both prosthetic devices that go a long way in assisting with various important functions such as speech, eating, and the general facial look.
Crowns and bridges are expertly cemented onto the existing teeth or implants unlike dentures and can only be handled by a qualified dental specialist.
How will crowns work?
A crown is just like a cap and can be used to cover up a tooth that is damaged. In addition, it is used to improve the appearance of someone as well as strengthening a damaged tooth. They also align or shape the face.
A crown can also be placed on top of an existing implant in order to provide a tooth-like shape and structure for function.
In case you have any doubts about their color, porcelain or ceramic crowns can be modified to match the color of your natural teeth. Gold, alloys, acrylic and ceramic materials can also be used. Some of them are used because they are strong and attractive.
Why should I consider this option?
A Tigard dentist may recommend a crown or bridge due to the following reasons;
Restoration of a fractured tooth.

Attach a bridge.

The replacement of a large filling when there are not so many teeth remaining.

Covering a dental implant.

Protecting a week tooth from breaking off.

Hiding a disfigured or discolored tooth.

Covering a tooth that has undergone root canal.
How will bridges work?
A dentist in Tigard can suggest a bridge in case a patient is missing one or many teeth. The space left by missing teeth may bring about a lot of issues that range from bad bites, shifting of the teeth and much more. The imbalance that comes with this missing teeth can lead to gum diseases as well as temporomandibular joint disorder.
Bridges cover the area where the teeth are missing. They are normally cemented to the natural teeth or implants surrounding the natural space. Teeth known as abutments serve as anchors for bridges.
In addition, a replacement tooth known as pontic is fixed to the crown that covers the abutment. For your crown, you will have so many choices to pick from.
How are crowns and bridges made?
Before anything else, the teeth or tooth should be reduced in size so that the crown or bridge will have an easy time fitting into that space. After reducing the size, a Tigard dentist will take an impression in order to provide an accurate mold for the crown or bridge.
In case porcelain is considered, a dentist in Tigard will first consider the shade of your teeth in order to have it matching.
The impression is then used to make your bridge or crown in the materials that the dentist and patient have decided on. After the final product is developed, they are fixed on your teeth.
What is the Lifespan of Crowns and Bridges?
Crowns and bridges can last a lifetime if they are properly taken care of. Great oral hygiene is one of the best ways for you to have a long lasting crown or bridge. Dental diseases or any damage to the adjacent teeth can also lead to them becoming weak or lose. Proper maintenance of your crown and bridges will ensure they last for long.