Dental Implants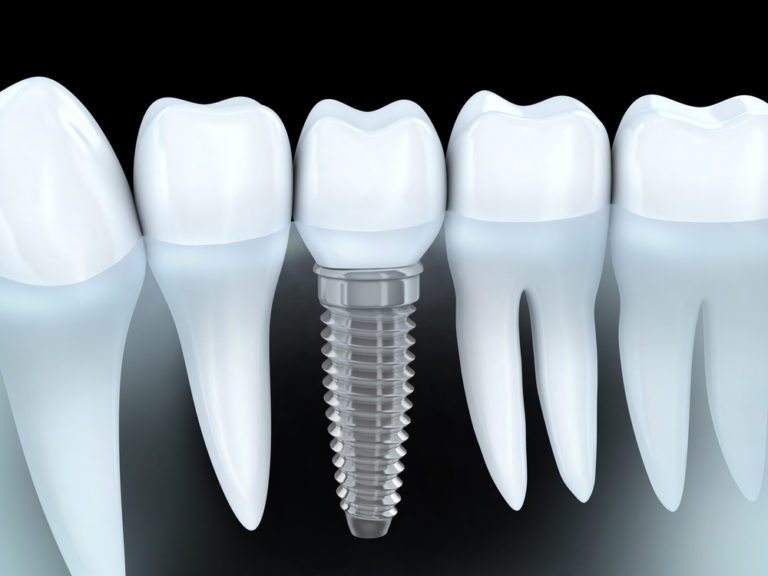 Self-conscious about a few missing teeth or having to wear dentures? Simply regain your smile and self-confidence with dental implants.  They are ideal for replacing missing or badly diseased teeth. They are also a great substitute for dentures. Dental implants are the most natural looking restoration option that a Tigard dentist can recommend.
Dental implants are simply the perfect option for restoring a beautiful and natural looking smile. It will brighten and lighten up your life.
What is a Dental Implant?
This is a screw-like anchor that dentists in Tigard use as an artificial replacement for your natural tooth root.
Dental implants are made up of materials that are compatible with the human body. A great example is titanium. For many years, implants have been used to treat patients who need them for either the lower or upper jaw. It is simply attached to the jawbone and the gum tissue. They are a stable base for the artificial replacement teeth like dental crowns, dentures or bridges.
Moreover, dental implants can be used to replace one or many teeth. In addition, they are also used to support partial or full dentures. The implants as well as the crowns remain inside the mouth and do not require anything to hold them back in place.
Procedure
Dental implants are surgically placed in the jawbone with the right precision and experience by the dentists in Tigard. They have the necessary equipment and experience to carry out all the types of dental implants.
The whole procedure is carried out under a general or local anaesthesia according to how a Tigard dentist will recommend.
The bone is then exposed expertly by the dentist by making an incision.  After that, the implant is taken and placed inside the jawbone. The incision is then stitched back carefully.
The titanium in the implant connects with the jawbone. The complete healing period of this procedure ranges from 2-6 months. The crown is then placed over the implant to cap off the whole process. A simple dental implant takes approximately 1-2 hours.
Types of Dental Implants Carried out by Dentists in Tigard
There are three common types of dental implants. Depending on your individual circumstances, your Tigard dentist will decide which type suits you. They include;
Endosseous Implants

Subperiosteal Implants

Transosteal Implants
Are there any Risks Involved in this Process?
Very rarely do we get cases about this process. However, there are minor cases that may occur and can easily be treated. These include;
Nerve damage

Infection

Sinus problems if the upper jaw intrudes into sinus cavities

Damage or injury to other blood vessel or teeth
It is important to contact a dentist in Tigard if you face such issues immediately. Once they are completely healed, they should be comfortable and painless.
Why Choose Us?
Dentists in Tigard are always looking after each and every client and that is why they strive to bring back that confident smile that you are craving for. The Tigard dentists are approved and provide quality services to each and every one who walks into our dental facility.
How Long Should Dental Implants last?
They should last a lifetime if you carefully take care of them. The dental crown however does have a lifespan. This is normally 5-15 years depending on how well you take care of them.
Contact us today to get your dental implants!