Am I A Candidate For Veneers?

If you're looking to improve your smile by eliminating minor imperfections or staining then you may have looked into porcelain veneers. Hollywood is just one of the reasons why the standards for a beautiful smile tend to include white straight teeth, but it isn't a reality for many of us. Thankfully this cosmetic dentistry technique is there to help restore your smile and have you proudly flashing it at anyone who'll look. If you're wondering if veneers might work for you, then keep reading and find out!
What Are Dental Veneers?
They're a restorative and cosmetic treatment that involves the use of porcelain caps to improve minor imperfections in the smile of a patient. They're created using a ceramic material that is durable and able to be tinted to the preferences of the patient. This results in a correction that gives compliments the natural structures of your teeth. Unlike other forms of restorative dentistry veneers almost guarantee that your new teeth will be nearly impossible to detect by those who meet you.
How Are Porcelain Veneers Applied?
When your dentist begins preparing you to receive your veneers the first step will be the removal of a thin layer of enamel from the front of your teeth. The veneer is then shaped to fit the new mold of your teeth, hiding or eliminating cracks, crookedness, and chips. These are a wonderful way of treating patients with multiple minor problems with their teeth since they can all be fixed at once instead of over multiple visits. The process is relatively simple and painless, but it does take multiple visits. After the enamel is removed from your teeth you'll be fitted with a temporary set.
Who Is A Good Candidate For Veneers?
The best candidate for getting veneers is someone who practices regular oral hygiene and currently has decent dental health. Gingivitis and periodontitis must be resolved before you can apply veneers, as does the need for caps and correcting cavities. When the patient's oral health is suitable its time to produce the smile they've always dreamed of with veneers. Patients looking to get veneers also cannot be suffering from bruxism or grinding of the teeth.
How Do I Care For My Veneers?
There's nothing special you have to do to care for the porcelain veneers that you don't have to do for your own natural teeth. Make sure you use mouthwash, brush, and floss regularly every morning and night. You may want to avoid anything that's too hard since veneers aren't as tough as your natural teeth. While most patients with bruxism can't get veneers those who only grind their teeth at night may be able to benefit from them if they wear a night-guard.
If you have conditions with your teeth that you think may be able to be addressed with porcelain veneers then it's time to give Dr. Scott T Simpson and AppleTree Dental a call. Patients looking for cosmetic dentistry in the Tigard, OR area have benefited from their expert care for years, and they're always happy to add a new member to their dental family.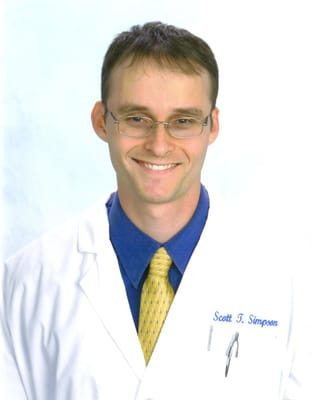 Dr. Scott T. Simpson
At AppleTree Dentistry, Dr. Scott T Simpson set out to create a caring environment focused on dentistry for families. Dr. Simpson graduated from the University of Florida College of Dentistry in 2005, going on to practice as a dentist in the USAF for three years before being honorably discharged.